Top 25 Fastest-Growing Jobs in California

 California Business and Job Growth 2013 – 2020
Statewide, jobs grew from approximately 936,000 openings listed across the Internet in January 2013 to over 972,500 open job postings in August of the same year. This is an increase of 36,500 job vacancies or about 39% more available jobs in less than one year.
By September 2013, California had over 1,009,000 open job listings across the state and these jobs were not in the seasonal industries. Many jobs offered high pay, such as those in physical therapy and software engineering. Additional seasonal jobs would/will be added for the winter holiday season for an additional increase. The state Unemployment Rate was 8.5% during September 2013, reducing during the following year to 7.2% in September 2014.
By April 2015, the state showed advertisements of 325,526 openings, with a state Unemployment Rate reduced further in February 2015 to 6.9%, compared with 5.5% as a national average.
Job Listings Increase During 2013 by 39%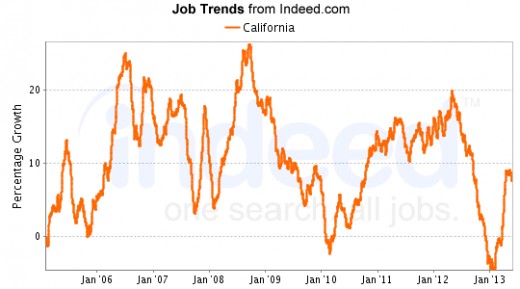 California added at least 32,300 jobs in education, health, professional services, and business services during January 2017, according to the DOL, at the same time that the state minimum wage increased from $10.00 to $10.50/hour. Construction jobs are beginning to increase as well.
By March 2017, the state showed at least 380,000 job listings on leading search engines SimplyHired and Indeed; with DOL figures showing 18.2 million people working out of about 19.2 million individuals eligible to work.
Employment Trends In California
Los Angeles is the largest incorporated city in the State of California. From June, 2008 to December, 2009 (spanning the change in presidential administration in Washington DC), the city experienced an increase of 22% in Internet-logged job listings, according to leading job search, trending, and aggregating engines.
From 2010-2012, California's statewide increase in numbers of jobs was consistent until March of 2012, thanks in part to the growing aerospace Industry.
Job listings declined from March-December, 2012, but began to increase rapidly again in January, 2013. Listings reached a 39% increase (or 39,500 more jobs) by August, 2013 and a total of over 1,000,000 jobs by September, 2013.
Despite the Great Recession and severe financial problems in several of California's cities, many metropolitan areas of California experienced actual job growth (see chart below).